I would just like to say a huge thank you to you all for lending us your children for the week. They have been fantastic and have kept us all thoroughly entertained. All week they have been incredible ambassadors for North Ferriby and have been the best group ever for: keeping the coach tidy; getting along with each other on the beach in the evening; their behaviour and manners at meal times; and their questions and answers at every single place that we visited. They have been brilliant all week and we are all very proud of them as I am sure you will be too.
See you all soon, very soon...
Friday 8th June - Durham Cathedral
We had all just woken up; some people woke up earlier to go on the morning walk across the beach. Then we came back to have our last meal in the Sunningdale Hotel. After breakfast we went on an hour and a half long coach journey to Durham Cathedral. When we arrived at Durham we walked through the city, past a street of shops to get to the cathedral.
Once we arrive we had a tour which lasted for most of the morning. We wplit into two groups and wandered round the cathedral. We started in the nave and we were told how the site of the cathedral had been chosen. This was the place where the monks put down Cuthbert's body for a rest after carrying him for many miles and then when they tried to set off again they could not move him. While we took the rest of the tour we were asked to look out for six things: a pelican with raised wings; a large clock; 5 lion heads; a fox; a coal miner and a winged rhino. Afterwards we went to the place where St Cuthbert's Body had been buried. During the tour at one point Noah got dressed up as a monk and Isabel dressed up as a Bishop so that everyone could see what they would have looked like.
Then we went back to the Nave to have a look at all of the beautifully carved pillars which had the same pattern as Lindifarne Priory would have had. Next we went into another area with a clock in it (one of the items we had to find). Then we walked round finding all of the other items on the list. Finally for the last part of the tour we went to the tomb of the Venerable Bede.
On the way back through Durham we saw a carving of the monks from Lindisfarne carrying the coffin of St Cuthbert. This was the same carving as the one we saw in the church in Lindisfarne.
Finally we had lunch on the green near the river and a big game of football before getting back on the coach for our final journey.
Millie and Katie
One final walk round Bamburgh before the journey home. 21 were up for it.
Thursday 7th June - Cragside House
What a fabulous end to the week. Great fun on the beach with football, boules, kite flying, hole digging and the parachute. Then a wave goodbye from a pod of dolphins...
Only 20 on the walk this morning. I think we might have tired them out. Forecast looks great for Cragside today.
Today after breakfast we went to Cragside to explore about William Armstrong's brilliant history. We got on the coach and got there about an hour later. We first went to William Armstrong's old house getting a personal tour around the place learning about all about him for around an hour before it opened to the public for everybody else to see the beautiful and extrawdanary building,but my personal favourite was outside area with all the pretty flowers surrounding us. Later we went to a lake nearby to have our lunch. Soon we had all finished our lunch and we split up in groups for an engineering workshop. When we finished our engineering we set off on the walk behind William Armstrong's old house which is a massive walk through a wood behind his house. We walked and walked with little stops on the way and eventually making it back to were we started and went to the gift shop buying things for family or our self,when everyone was finished we got on the coach and went back to the hotel.
During the day we learnt lots of things about Lord Armstrong. We found out that he was very ill when he was young and we learnt that he used water power to make electricity. I found it very interesting that they planted 7million trees and now it looks like a wood. We learnt that he invented hydraulic electricity to light,up his house and we've learnt that he earned his money by selling guns. So that was our day at Cragside.
by Jacob, Kitty, Noah and Jess.
Wednesday 6th June - Bamburgh and The Farne Islands
31 were up and away for the morning today. It was lovely and fresh on the beach. Looks like a good day ahead.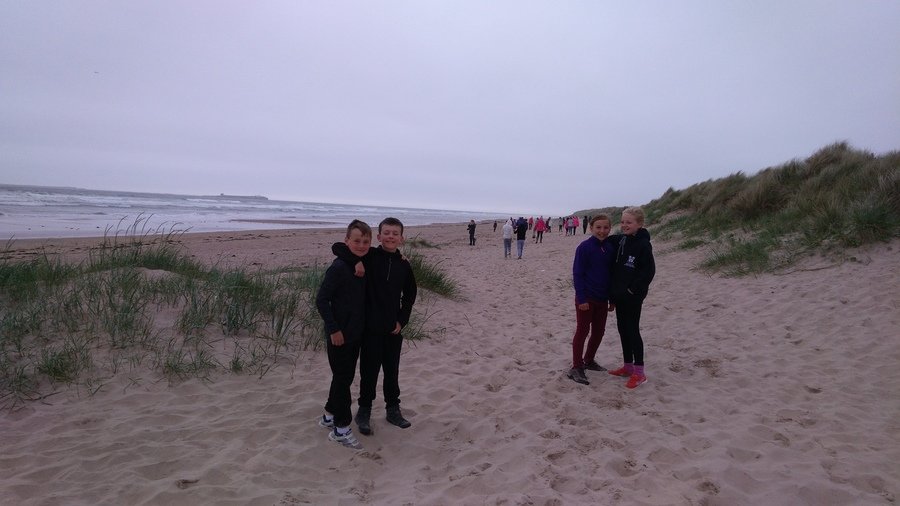 This morning, we went to Bamburgh castle and we learnt all about it's past and artifacts. We met with a curator who showed us around the castle.
Firstly we went into the old kitchen and she told us about how in the olden days children had to run around a wheel (like a hamster) to make the food cook and in return they got a scrap of food and shelter .
We then found out that William Armstrong invented air conditioning for the whole house, he also created radiators that heated the whole castle.
After that we went into the dancing hall and she told us about some ghost stories that happened to her. The first one was about a man with horse riding gear on. The other one was about when a man tapped her on the shoulder.
After a wile we went in to the archaeological room and tried on some chain-mail and helmets, they were really heavy, we also played some board games, we had lots of fun.
It was a great morning and everyone enjoyed it. We learnt lots of new things and had fun particularly with the guide and her dragon!
Freddie, Lexie, Edward and Halle
Today, after lunch, we went on the coach to Seahouses where we caught a boat to the Farne islands, we were so excited. When we set off the sea was choppy but it slowly died down as we headed between the islands. At the furthest island we saw some seals on the rocks (they were so cute). When we got on the main island we stepped off the boat and walked up to where the terns are. I (Jorge) got pecked about 30 times but they don't hurt -they're just protecting their babies.
After we had walked past the terns, we looked at shags,kittiwakes,razorbills and cormorants on their nests with their eggs below them.Then we carried on and saw the most cutest baby bunny. Then of we went again and saw a tiny chick, and we finally got back to the boat. It was rocking on the way back but the journey back wasn't as bad as the way there. When we got off the boat, we went to the gift shop then we got back on the bus to go back to our hotel.
Freddie, Ed, Jorge,Charlie , Izzy F and Libby.
Tuesday 5th June - Holy Island and the Coastal Walk
Morning Walk:
21 were up for the morning walk. Not too bad for the first of the week. Let's see how tomorrow compares. Weather fresh but dry and looking good for the rest of the day...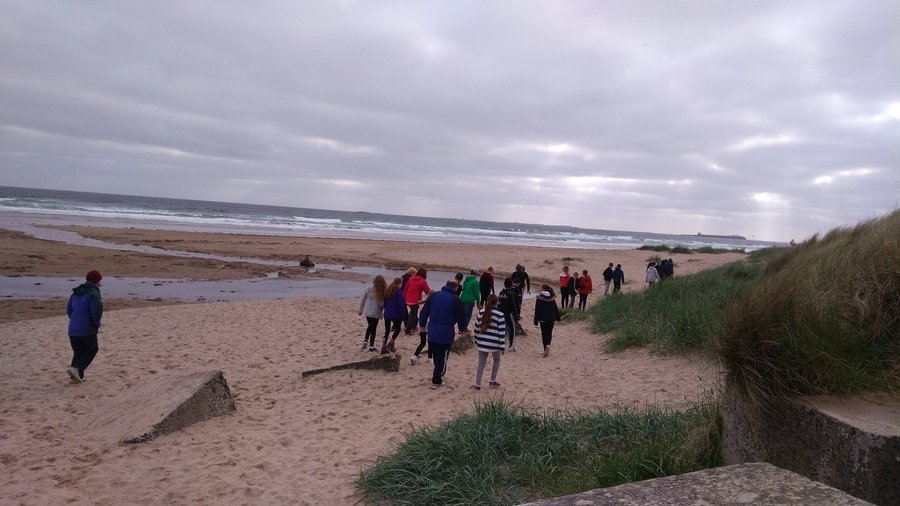 Coast Walk from Budle Bay
Today we have had an amazing time; some of us woke up early to go on the morning walk but some of us stayed in bed until breakfast. For breakfast, we had Rice Krispies to start with and once we had finished our Rice Krispies we had an English breakfast (it was delicious). After breakfast, we tidied our rooms, got our backpacks and got on the coach. We then went on a short drive to the beach and when we got there we all set off down the beach. The beach was covered in rock pools and in one of them we found loads of tadpoles. Also, we went into a bay there we got the choice to either sketch Bamburgh castle, the small lighthouse or the rocks, sand and sea around us. After a little walk, we ended up back at the hotel for lunch.
Keira and Dan
Priory is a place of peace and love.
I sit here on this lovely day wondering what it was like 1000 years ago if they would cry wondering if they would die.
Salmon pink ruins surround the beautiful lands.
Tall, big arches stand over the historical ruins.
The beautiful birds fluttering around the priory.
We went to the priory and we sat and wrote poems about the ruins and scenery. Soon after we split into two groups and first my group drew a sketch of a statue of St Aiden while Mrs Redshaw explained about St Aiden and St Cuthbert then we went to the church and drew parts of a stain glass window. After that we went to tourist information and gathered up six facts about St Cuthbert and St Aiden. Soon after we dumped our bags on the coach. We walked to a nature centre and then we walked back to then we walk back to the coach and headed back to the hotel.
By Daisy, Charlie and Jack
Monday 4th June - Beamish Museum
This morning, we got on the coach for a long journey taking three hours although it felt like three minutes. We arrived at Beamish and saw it for the first time. Half of us went to the town on a tram and the rest went to the village. Both groups had a chance to explore a drift mine which is a hole in the side off a hill and when we got down the mine most of us had to duck as it was a low ceiling we also had to wear hard hats to prevent bumping our heads. Everyone learnt that the miners had to work 10 hours a day ,6 days a week! They only holidays they got were Christmas Day and Sundays -they didn't get Easter and other bank holidays , unlike us! We had a questionnaire to answer as we made our way around the village so we asked Victorian folk who were dotted around the buildings about the fascinating artifacts and how they lived their lives in their time. We also learnt that the Pittman's pack lunches were called bait and no they didn't eat what hangs on the end of a rod for fishing!
Next we went to The Pit Cottages that we're owned by families who worked down the mine. They were a very basic layout which consisted of one up two down. The first cottage used to be owned by a Methodist family this was shown by the Lord's Prayer and quotes in picture frames on the walls upstairs. The second cottage was owned by an Irish Catholic family. We learnt that nine of the children slept in the attic on straw mattresses and the tenth (a baby) would sleep in a cot down stairs. The third cottage was lived in by a widow and her two teenage sons she made her living by making rugs, mending things and washing peoples clothes.
After that we went in the school and saw the two classrooms one was for Ks1 and the other Ks2. The Ks1desks were tiny and they had a rocking horse in the room. In the Ks2 classroom there would have been 90 children age from 7-11. Then we played in the playground and then we went for lunch.
By Isabel, Lucy-Ann, Katie and Lexie
This morning, we set off from school and travelled to Bamburgh but on the way we stopped at Beamish. First, we took the tremendous tram to the village then we went to the co-operative; the Co-operative's motto is 'labor and wait'. The advertisements are made of slate and metal. Next, we went to the dental surgery - it was 15 shillings just to get a filling which is more than a miner's wage. Here is a pretty gruesome fact : in the olden days, the dentist's chairs were red so you couldn't see any of the blood. They also have a technician's room were they make false teeth. The difference between the dentist's and the music teacher's house is that the dentist's had electric lights. Last of all, before lunch, we went to the sweet shop and we watched a man making cinder toffee; also, we had a choice to buy some sweets which many people did.
By Charlotte Lount and Isobel Lowther.
What a brilliant end to a brilliant day. The kids have been fantastic throughout, asking brilliant questions at Beamish and finding out loads of facts for their Bamburgh Books.
Down at the beach the tide was a bit further in than usual and it was a bit fresh too, but they all just got on with it, digging holes, playing games and all getting on fabulously!