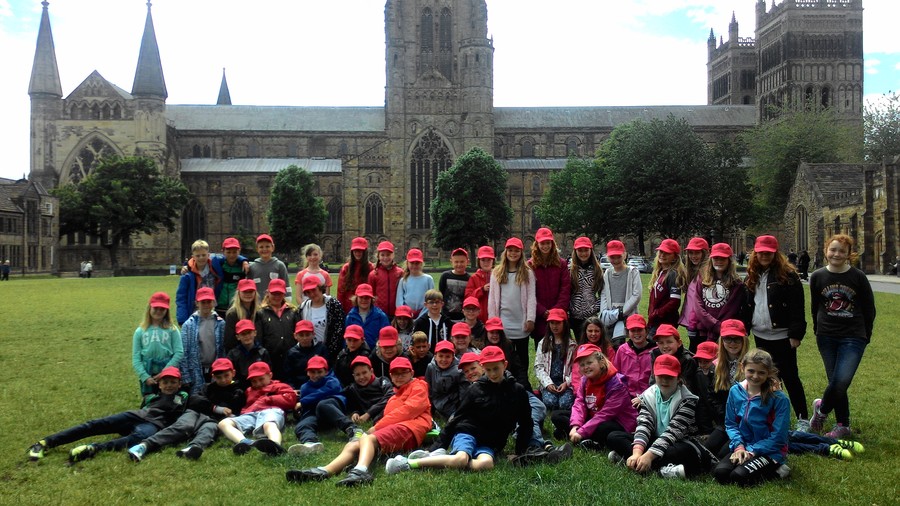 Friday 9th June - Durham Cathedral
Today we visited Durham cathedral and came across where some of the Harry Potter movies were filmed. We took it in turns to look through a key hole and there lay the room that the disappearing cat scene took place! In the potter films the middle of the school ( the grass enclosed area) was filmed at the cathedral in a small, opened roofed enclosed area - near the east wing of it. There are also other scenes filmed in Durham cathedral like, at the almost very top height of the cathedral a walk way passage lies that the scene in Chapter 1,Philosophers Stone: Fluffy appeared with Hagrid.
The Venerable Bede:
We found out about a man called Bede. We found out that Bede became a Saint and a Venerable so he must have been a very important writer and he wrote about people like St. Adain and St. Cuthbert. Bede had a monastery near Jarow and was buried in St. Mary's Chapel which is part of Durham Cathedral. He was also very educated which is why he became the first historian to record the fascinating things about the Northern Saints. His parents sent him away to live in the Monastery when he was just seven years old.
Saint Aidan:
Today we learnt about Saint Aidan at Durham cathedral. Aidan was around more than 1000 years ago. He was brought up as a Christian and in his early ages he became a monk. But his is really more known for his later life-so let's skip right on to his later life. When he was 40 he start to be recognised for his work. His first mission was to spread the word of God. Whilst he was spreading the word of God King Oswald gave Aidan a horse, but Aidan knew a poor family who needed some money, so he gave them a money from the horse he sold. When Oswald found out he was very mad until Aidan asked him a question "which is more important a horse or a poor family?" And of course Oswald could not pick the horse so he picked the family and apologised to Aidan. Not soon later Northumbria -county opposite Aidan- started to become bad people and kill people. So Aidan went to Northumbria to teach them about God. When he came back he went back to Lindisfarne and came the prior and not late after he died and the Angels came to take him up to heaven.
St Cuthbert:
Saint Cuthbert was a prior of the Lindisfarne priory. When Cuthbert was young he had a dream that he was a shepherd and that he saw an angel taking a man up to heaven but on that same day same hour same second St Aiden died so people think it was St Aiden going up to heaven, how weird?
St Cuthbert died on March 20th 687 AD, but that wasn't the end of Cuthbert. When he died he was put in a timber coffin. Cuthbert became a saint in 698 AD. In 793AD and 875AD Lindisfarne was raided by Vikings so the monks of Lindisfarne knew that the Vikings would attack again and they went on a journey and they took the things that were meant to be valuables which were: King Oswald's head, St Aiden's bones and St Cuthbert's full body and they went all over England. Eventually the the monks got to Durham and the coffin suddenly went all heavy, so they stay d there.
On some of the stained glass windows in Durham Cathedral they had St Cuthbert holding King Oswald's head also we saw the place where he is buried in Durham Cathedral.
by Olivia, Isobel, Millie, Sam.S and Sam.M
Thank you to all the teachers Mrs Beasley, Miss Wilkinson, Mrs Chappelow, Miss Redshaw, Mrs Halsall, Mrs Brooks, Mr Brooks and Mr Orr because of this amazing week that we have had in Bamburgh.
The morning walk:
When we woke up this morning we had to check our rooms just in case we had left anything from the packing the night before. When we had checked we needed to bring our suitcases down so Chris - our coach driver -could load the suitcases on the coach. When we got down those who wanted to could come on the morning walk had to be down by 7:15. The morning walk is lead by miss Redshaw and other teachers come to, to help out look after us noisy bunch. When we left we walk down one of the main roads of the town and then we turned down The Wynding road and start to carry on walking in the scorching sun. Later down this road we go through a small little car park and headed through a passage way to the beach. When we got on to the beach nearly all of us ran ahead to where we had dug holes the previous night. While the teachers made their way over we all were ether filling in our holes, filling in other people's holes-boy's- or making ours better. When the teachers finally caught us up we start to run up another passage to the cricket field. When we got there we took our shoes off banged all the sand out of them- I still think I have sand in my shoes now. After we had got the sand out of our shoes and but them back on, we followed miss Redshaw back to the mane road. After we had got passed a few more roads we were about 5 more houses to the sunning dale hotel so most of us ran because we were all so hungry for breakfast. Thank you so much to miss Redshaw for leading the morning walk and for that last amazing stroll on Bamburgh beach.
Thursday 8th June - Bamburgh and The Farne Islands
Bamburgh Castle
We arrived at Bamburgh castle for 10 o'clock it was raining very heavily and we had to wait outside. When they let us in we went into the great kitchen and they started telling us facts. It was quite a squash as we all went together as a group of 60! The main room we went in was the Great hall. There were pictures and paintings on the wall- it was spectacular! We found out that a bit of the transformers film was filmed there. Also Henry VI lived in the great hall and there was a memorial stained glass window. We went through lots of very interesting objects in there. There were around 16 clocks everywhere they were beautiful. There was a passage we went down that led to the keep. In the keep there was a well that led to the village- one day two boys went down the passage and William Armstrong found them and invited them in for tea, sent them home and filled in the well so no-one else could get in. Then the tour ended and we had a quick look in the dungeon which was very creepy. We walked through the shop and back out to the rain.
Boat Trip to the Farne Islands
(by Polly, Kate, Maya, Natasha Adam, Owen and Lee)
Today, we had a great afternoon! We went on a boat trip around the Farne islands; it was very cold. We sang lots of songs led by Mr Brooks like "singing in the rain " and "Yogi bear" more. Some people felt sick but the others were fine. On our way around we saw lots of puffins,seals, guillemots and more.
On the boat, it was rocking like crazy! We saw the lighthouse which Grace Darling lived in and more of the inner and outer Farne islands. After that, the sea got a bit choppy and people started to feel sick but I think the puffins started to make them feel better. Once we had gone back we went to a gift shop to buy souvenirs, mementos, stuff for family and of course, sweets!
After that 10 children at a time went back to the coach and came back to THE SUNINGDALE hotel for tea and a shower. Once we came back some of us went upstairs to write their diaries, and others stayed downstairs to eat sweets as well.
Wednesday 7th June - Holy Island and the Coastal Walk
Wednesday- Lindisfarne Priory: by Méabh and Alice.
Today we visited the beautiful 'Holy Island.' After an early start we drove over the causeway and got there in time before the water closed on us. First we visited the stunning priory. Miss Redshaw told us bout Saint Aidan and Saint Cuthbert, we saw a huge statue of St. Aidan before going to sit by the pinky bricks that where the ruins of the priory. We sheltered in spots-it was extremely windy and cold- and wrote some poetry.
After twenty minutes had gone by, we split into three groups and took turns at each activity, like a carousel. One of the activities were to go to the information centre and collect ten facts about Aidan and Cuthbert. Another was to go in the church and do some sketching of the surroundings. The last activity was to search the ruins and find the different rooms in what would have been the church.
Finally we went to the gift shop and bought ourselves some treats. Near the car park we heard a man playing the bagpipes (he was very good!). Then we went back on the coach to Bamburgh.
St. Aidan's church
We had a peaceful walk up to St Aidan's church to see Grace Darling's tomb. Once we'd arrived at the church, we split up into two groups. We went into the church first and had a quiet walk around; some people took pictures. Once we went around the church we went outside to the graves and we found Grace Darling's grave and memorial.
Beach Walk:
Once we got off the bus, we sat down and had our lunch . After, we walked down to the beach to do some sketching around Stag rock. Some drew Bamburgh Castle, whilst others drew stag rock. When we were sat on the rocks sketching, the sea was crashing against the rocks but some had a gap between them so, when the water crashed, it looked like a waterfall! We then walked back to the beach and had a great time playing on the sand.
By Betty and Harriet
On The Beach
We came back from the church and went to the hotel to collect the buckets and spades then we walked to the beach. we had a competition on who could build the deepest hole in the sand.That was fun everyone was in the sand and building castles and having a lot of fun. I think we enjoyed it. then we went to the hotel we cleaned our shoes and got all the sand off them. Then We went to our rooms to get ready and put our bags down and went and had our food.
By Ben
Tuesday 6th June - Cragside House
On Tuesday the 6th of June, We visited Cragside. From the time we arrived - around 10:15am - we got off the bus and was waited to be shown from room to room in William Armstrong's creation: Cragside House.
Once we began the tour, we were firstly taken into the library. The tour guide explained to us about how there was four lights, powered my hydro-electricity. Hydro-electricity is electricity but made possible by water.
The second room we went into was the lounge area. It was neatly decorated with expensive China cutlery. Also, there were swords, paintings and a drink set.
In The third room were a stero-typicial victorain female and male. We had a debate between which room belonged to a male and which one belonged to a female. Beacause of the stero-typical ways in Victorian times, it was obvious which the owner was of each room.
Next, we went into the kitchen. Scattered all over, there was model recreations of the different foods people would find in a old-style kitchen. We were able to feel some of the soaps and materials servants would have to use, for example: whale blubber.
Then, we were all shocked when we entered the next room. We all gazed at the eye-catching sculpted fireplace with spectacular carvings above the wall. We were noted about the time and effort that was put in to make the wall stand in all of its glory. It weighed over one hundred tons!
Finally, we came into a rather peculiar room, it included: a dumb-waiter. It privileged the servants into saving some of their strength for carrying up dishes or cups up and down the stairs, it all had a hydro-crane. A hydro-crane is referred to as a massive syringe; it acts like a syringe too. It's uses all the water to active some of the hydro-powered objects in the house.
We all enjoyed our tour around the house, Cragside.
By Izzy and Caitlyn
Workshop
After lunch we all went to a workshop. In the workshop we made a hydraulic crane from the materials given and from instructions given by the guides. We started off by putting a syringe through a rubber band attached to a wooden crane that was already constructed for us. Next we did the same but a lot nearer to the bottom of the crane. Then we attached a tube to both of the syringes and filled them up so that they pumped the water through the pipe and made the crane go up and down. It was an enjoyable activity of our Bamburgh trip.
Power House
After the workshop we visited the shop and then we took a rainy walk down to the pump house. Mr Orr talked to us and told us all about William Armstrong's inventions. He told us how Armstrong used water from the reservoir to run a pump which pumped spring water up to the house.
After this we continued on our rainy walk through the trees to the power house. Mr Orr told us about some more inventions of William Armstrong. He explained how the water was used to make electricity. There were 6 machines in the power house for us to play with. When Mr Orr finished talking we played on the machines.
After this we walked back towards the house in the rain.
Formal Gardens
The last thing we did on our trip to Cragside was a walk through the formal gardens up to a lovely pond covered by green, natural and dripping lily pads. We all stood around it and revealed what we thought about lord Armstrong. Most people tended to be impressed or thought he was kind however we had some interesting answers, for instance some people thought he wasn't fair or wasn't kind or even just a wealthy show off.
On the way up we came past some beautiful plants that glistened thanks to the small droplets of rain . It was fascinating to hear all about the hydro power to make electricity for the rest of the house.
Monday 5th June - Beamish Museum
The Mine:
During our visit to Beamish Museum, we were able to go down the mine. To start with, we were issued with helmets to keep our heads safe if we bumped them. Once they were on tightly, we began our journey down the mine.

Our first stop was at a machine which controlled the cages that the miners travelled in. There was a man who told is about how the machine worked and he even gave us a demonstration.
Next, we carried on down to the mine but we had to stoop low as the ceiling height dropped. After we had walked through a damp, dark tunnel, we all squeezed into a small place where the same man explained about a miner's job and showed us just how dark the mines were with with a small lamp.
Once our tour was done, we worked our way back up and took off our helmets, ready for the rest our adventure at Beamish.
The Town:
As we approached the town we could see the street, it was filled with old-fashioned sweet shops with masses of jarred sweets; dentists with drills and tools and fake teeth for the women; the shop with the necessary foods for the towns folk and also the bank.
The sweet shop was filled to the brim with jars of rhubarb and custards, gobstoppers (which I bought), rock , fudge and many more.
When we went into the dentists and were led upstairs by our group leaders; we made our way up the narrow staircase and into the room and all crammed round the dentistry room were a man talked to us all about what happened like how the didn't wash the tools to the end of the working day resulting in patients having the same tool in their mouth that some(most likely) stranger had previously had.
We entered the shop ; inside was a metal till and on the back wall was shelving racked with food and baking supplies especially for the women. Just before the game tram we visited the horses that pulled the carriages. Finally, just before we departed from Beamish we took a ride on the tram - a rather bumpy ride - and met up with the other group.
Then we went to the gift shop and after we had bought our stuff we set of for one last time to reach our final destination.
The School
First we went to the entrance of the school but there were two entrances, one for boys and one for the girls. We went into the boys with with the boys and went into it even though that we were girls! ( The person let all of us) A few minutes later we came out into the infant's room where the children from 4- to seven used to sit. Then we went into the room where near the 7-11 year-olds sat( the other group got to go into it Lee told me on the coach on the way back home apparently!) Then we went to the playground and then just as we went to the playground, we saw a stopped and saw two and some more hoops and some more sticks top or below them and we played with them.
Instructions to on how to control a hoop and a coil:
Firstly, hold you hoop by your hand that you write with ( either your left- hand or your right-hand).
Then, please could you roll the hoop in the opposite direction to the way that you are,forward .
Next, please can you keep hold of and or over the hoop with the Stick make sure that you keep it controlled of below the hoop and stick line or otherwise the hoop will lock you and the hoop up and you and the hoop will stop.
Well done you have successfully mastered and been taught by me and all of the rest of us how to successfully be a coil and hoop well done. You did very and really well.
Now so far as I think that the trip has gone really nearly well for us. It has all been so very fun. What do you think? You can find out on the and our website for the rest of the week, Monday, Tuesday,Wednesday,Thursday and Friday. Please can you come and find out more out more on our North Ferriby C of E Primary school website .see you soon . I love you all bye bye.... Have a nice week and weeckend bye bye again.
Thank you to Lee for all of his ideas, Support and assistance and advice and all of the ideas and support bye bye....