EYFS
Welcome to the new and improved EYFS page. The most up to date articles will appear at the top of the page which cover learning for all Reception children regardless of their class. Please scroll down for later stories. Updates will usually be made weekly.
Please note that if your child has never appeared on the website it will be due to photograph permissions. If you wish this to change, please contact the office to update your preferences.
EYFS dates for your diary: Summer Term
June
Wednesday 7th June: Your Turn to Learn 3 CANCELLED
Thursday 15th June: Miss Marson's Class Led Worship 2:55pm KS1 Hall
Thursday 29th June: Miss Parker's Class Led Worship 2:55pm KS1 Hall
July
Monday 17th July: EYFS Learning Journey Presentation 3:00pm
24.05.17 Update
This week has been very noisy with our extra guests. The children are enthralled by the chicks and it's been a pleasure observing them talking about what they can see. The chicks have been out in our tuff trays every morning this week for the children to come and touch and pick up. The challenge folders have been based around 'chicks' and there has been some super examples of writing and problem solving in maths. The children have had to work out how many legs were on 4 and 6 chicks by drawing pictures to help them.
Optional activities for home:
Work out how many legs 5 chicks would have by drawing pictures and counting the legs.
Read some silly words using the digraphs and trigraphs they know e.g. laip, poaf, pighb.
19.05.17 Farmer Karl
Today Farmer Karl brought in the cage and food for the chicks. The children have finally managed to hold them as they are now fully dry. Parents are welcome to come in after the children have been dismissed between Monday 22nd May and Thursday 26th May as Farmer Karl is collecting them on Friday morning.
16.05.17 Chicks!
Today the children arrived to find 4 cracked eggs as chicks started to hatch. By lunchtime one chick had hatched completely and two more eggs were cracking! More chick news to follow!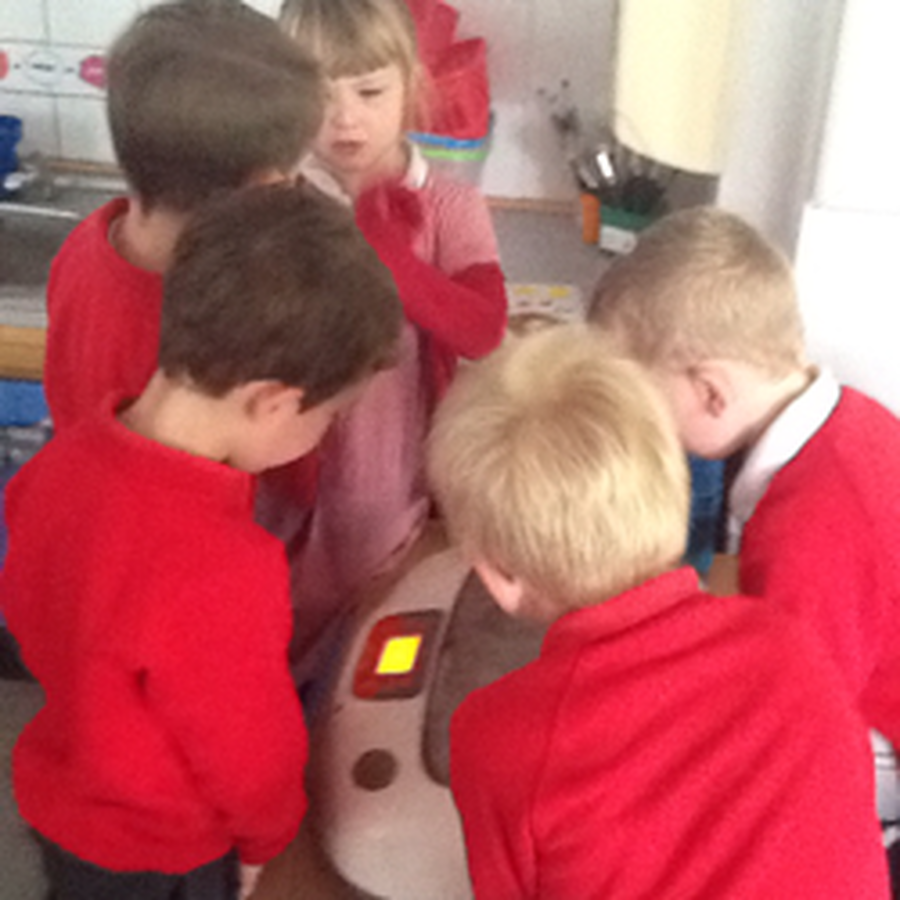 This was a lovely observation from this morning of the children and George H from Miss Parker's class:
"Look the chicks are nearly hatching!"
Miss Marson briefly took the lid off the incubator to show the children the eggs more clearly.
George observed the colour of the eggs.
"Some are blue and some are um, gold".
"They've little holes in them!", exclaimed George.
"They're coming out soon!", he told the group excitedly.
"I think they'll be fluffy when they come out and yellow. "
16.05.17 Update
Last week the children had challenge folders based on feathers. They produced some beautiful playdough feathers, writing about what feathers look like, models of chicken coops and of course the flower shop role play was in full swing too. This week the theme is obviously chicks! The children have enjoyed getting into the new challenge folders; painting and constructing pine cone chicks, writing about what happens when the chicks hatch, feeding a chick pipe cleaner worms, sounding out chick words and twisting eggs to make nonsense rhyming words.
Most of the children are now learning to write short sentences with finger spaces e.g. 'The chicks have 2 legs.' In maths the children have mostly been working out missing number additions e.g. 4+___=7. They have worked this out by using two sets of coloured cubes, getting out the first number (4 blues) and counting on with the other colour to the total (3 yellows).
Optional Activities for home:
Watch a chick hatching video on YouTube
Sing their 'ABC song' to you (alphabet) ensuring they say 'zed' not 'zee' at the end for z.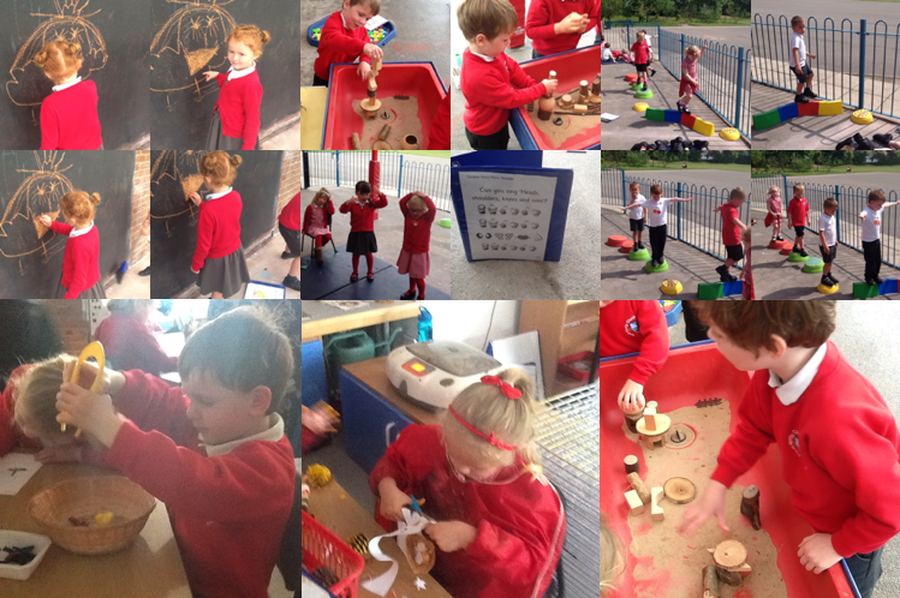 28.04.17 Kittens!
One of the parents from Mrs Hill's class brought in her 5 kittens for the children to see. The children were thrilled to see 5 cheeky kittens and keen to stroke and touch them carefully.
26.04.17 Your Turn to Learn 2
Once again we worked our magic and turned the children into teachers and the adults into children. The children thoroughly enjoyed showing their parents their challenge folder work and teaching their parents to do the challenges. Here are a few photographs from the afternoon.
26.04.17 Farmer Karl
On Wednesday, Farmer Karl brought 20 chicken eggs (although he suspects one might be a duck) and the incubator. The children were very excited to see him and had prepared questions to ask him. They had excellent manners when listening to the instructions about how to look after the eggs and the chicks. Oscar and Tristan helped Farmer Karl make a paper chick and Olivia from Year 1 turned the incubator on. The chicks should hatch in 21 days. Farmer Karl will pop back next week with his torch to see if any of the eggs have chicks inside.
Naturally the challenge folder theme this week was eggs. The children have had to paint the inside and outside of an egg by mixing the right colours. They have also had to complete a rhyming rocket, make an incubator out of play dough and construction materials and also make somewhere safe and warm for the eggs in the small world in case the incubator breaks.
11.04.17 Update
In the last week of term the children followed the theme of 'bunnies and chicks' which they learnt represented new life at Easter. The challenge folders included lacing eggs, estimating the number of chicks inside eggs, matching rhyming words in eggs, making rabbits out of playdough and construction materials, making chicks using plastic cups and tissue paper and also practising their letter formations on Easter themed sheets. The children loved the addition of some old tyres the most though! They pretended that they were giant nests and had to either jump as far as they could, or land on a target number egg as given by their friend.
The children were also told about the surprise which is happening on the first day back- Farmer Karl is bringing an incubator full of chicken eggs for us to look after. Last year we only had 3 chicks hatch so the children are eager to have more this year. Our record is 20 ducklings from 20 eggs which was a very loud and busy time! The chicks will be due to hatch approximately 3 weeks and 2 days from when they are brought to us but could be earlier if Farmer Karl has started to incubate them already. Hopefully the chicks will spend 2 weeks in the classroom once hatched until the end of the half term.
Reminder:
Wednesday 26th April 2:15-3:15pm Your Turn to Learn
Optional activities for home:
31.03.17 Update
This week the challenge folder theme has been the Easter Story. The children learnt the story and applied their knowledge through their challenges. We have seen some beautiful Skull Hill sunset pictures with careful colour mixing to create a fade effect. Midway through the week we had a thoughtful chat about life and death, focusing our attention on making the most of every day and living life to the fullest rather than thinking too much and being sad about death!
In maths the children have been working on shape, space and measure objectives. The majority of the children have been working on using positional language to describe the location of a doll in relation to another object e.g. behind, in front, on top, between, next to. The remaining children were recapping 2D and 3D shape names.
In writing the children have been continuing their sentence writing, trying to remember finger spaces between words. The children who are left handed have learnt to put their finger down, hop over it and put their pencil onto the paper, before removing their finger as it gets in the way. We have been reminding all the children to apply their digraph and trigraph knowledge into their spellings and remember the spelling of tricky words they know. We have covered using the trigraph 'igh' instead of the word 'I' for spelling words e.g. fight instead of fIt.
Optional activities for home:
Read in an unusual place e.g. a homemade den, in the garden, under a cosy blanket with a torch
Have a 'one more than.....' quiz with numbers 0-10, then 11-20
Work out simple addition sums with totals no more than 10, then 20 using anything as equipment e.g. pasta, cubes, dolls, Lego
Learn to draw a person with features such as fingers, toes/shoes, eyelashes, ears, lips and a nose (they always forget these!)
26.03.17 Update: Father's Afternoon
The children showed impeccable behaviour as they worked with their dad, uncle or grandparent to make a bouquet of flowers. They worked hard and with great concentration as you can see from the pictures. Well done children and adults, they looked beautiful!
24.03.17 Update: Red Nose Day
The day started with a worship to find out who won the Mark Hill competition. The entries went to the salon earlier this week for judging and for EYFS Georgina won a haircut and some hair products for her mum. Well done to Georgina for winning and to all the other children for taking part.
This afternoon the children had the opportunity to buy items or take part in competitions. Look out for the winners on Monday as the raffle has been drawn and the prizes are waiting in the classrooms. Fingers crossed we have raised lots of money for charity.
The children looked amazing today. Here are a few photos of some children showing off their funny noses, tshirts and deely boppers.
(Father's afternoon photographs will be appear on Sunday so the mums don't get a sneaky peak of their present.)
22.03.17 Update
The last two weeks have been jam packed with exciting wedding activities. The theme last week was wedding clothes and stained glass windows, with this week following a theme of wedding food and healthy food. The children have been learning about healthy food choices and what foods are classed as treats. You will see some lovely observations from the challenge folders when February and March's 2Build a Profile gets sent out next week. The children have also been pushing themselves physically with an outdoor challenge to use the equipment without standing up on it, cue some very imaginative ways of moving along the blue balance beams!
The children have been enjoying the new role play area and it has been very sweet to hear melodic singing coming from a 'wedding service'. The children have even used Mobilo construction pieces as rings!
Mrs Hirst followed on her musical lesson with challenging the children to paint what they imagined when they heard music by Vivaldi. They were surprised to find that they all painted different things.
We have been really impressed with the children's reading this week. Children are making good progress with the high frequency word (HFW) sets, reading the words by sight without sounding out. Miss Marson's class have slightly changed the reading book changes to occur on the day when they read to the staff in the room so that they read a brand new book that they don't know.
In mathematics the children have been working hard solving addition sums by counting on from the largest number. Some children have even been working out missing number addition by getting out the amount they know in the sum and getting out extra cubes to make it up to the end number.
In writing the children have enjoyed writing about the Scarecrows' Wedding pictures and this week they have written about a disastrous picture of a wedding cake falling (this has caused much discussion about who knocked it over!) Most of the children are now writing sentences with adult support, remembering to use finger spaces between each word. Some children are writing sentences dictated by the teacher, whilst others who are able to do this are now writing sentences they have chosen. The children who are not working on sentences are finishing learning letter formations and practising sounding out individual words.
We look forward to seeing our dads/grandads/uncles this Friday (24th March) for a special craft activity at 2:45pm in the hall. Mum's, no peeping at what the children bring out until Sunday!
Friday is also Red Nose Day.
09.03.17 Update
This week the challenge folder theme has been wedding cakes. The children have had great fun joining in with all the activities. The children have been decorating a fake wedding cake with jewels as their fine motor challenge, building a church and car in the small world, painting patterns on cakes in the painting area and working out 1 less by crossing out pictures.
In writing the children have been labelling wedding pictures to practise new letter formations and others have been writing captions to accompany pictures from The Scarewcrows' Wedding by Julia Donaldson. The first piece of work is from Orla and the second is from Oliver. The blue writing is what we call a response. For children who are doing captions and sentences, these responses are usually letter formations which have already been covered and achieved previously.
In maths many of the children have moved onto addition by counting on from the largest number. In the slideshow Matty is completing this activity. He counts out the cubes for the addition in two colours (he is checking he has the right amounts). Then he covers the largest pile and says the amount without recounting e.g. '5'. He then counts on from that amount e.g. '6, 7,8'. The next step after this is to represent the lowest number with cubes and count on from the largest number which will be in their head.
Wavy is excited for the grand opening of the new role play area tomorrow, especially as he looks so dapper in his new suit which has been kindly bought for us by Mrs Howe. Thank you! The children were very excited! He now looks the part and we are sure the children will enjoy acting out weddings over the next few weeks.
If you wish your child to complete a free message in the Hull Daily Mail, please return the permission slips asap.
Optional activities to do at home:
-Give your child any number to 10 to continue counting on from, extending to 20 if they are secure with this
-Look at any wedding clothes (guest/bride/groom/bridesmaid etc) and notice patterns, textures, shapes and parts e.g. train on a wedding dress
-Look at wedding photographs and discuss what happened
02.03.17 World Book Day!
Here are a few photographs from the day. The children looked amazing and so much effort had been put in.
01.03.17 Update
It's been so lovely having the children back after the half term break. The classroom has been moved around ready for our new topic 'Weddings'. This week the children have had a huge variety of challenge folders to do. Why not have a look at some of the challenges below with your child? They should be able to tell you what they did. The children have heard the story 'The Scarecrows' Wedding' by Julia Donaldson and have thoroughly enjoyed hearing about the dramatic rescue by Harry O'Hay.

The photographs of seeing the police car have now been updated below.
Optional activities to do at home:
-Ask your child to segment words with their newest digraphs and trigraphs e.g You say 'rain' and your child should say 'rrrr-ai-nnn'
-Practise the formation n, m and p, remembering to start by going 'down the robot's body, back up and give him an arm'. The letters m and n tend to be formed as hills and p is frequently reversed
-Count backwards from 20
-Recognise numbers 11-20
09.02.17 Update: Surprise Number Two!
Today Miss Marson's partner Mr Hurwood came in who is a Hazardous Area Response Team paramedic in Leeds. The children had to try and guess what his job was based on the theme of the week and his uniform. The children guessed well and then asked a huge range of questions from 'Do you drive a racing car?' to 'What do you do if their heart stops?' Mr Hurwood then showed the children his special jacket which enables him to be protected from glass and heat as well as his high visibility jacket. All the children tried these on and then put the helmet on.
[Apologies for the upside down photographs- we are having technical difficulties!]
08.02.17 Update: Surprise Number One!
The children were told that this week the challenge folder theme was 'Emergency Services'. They were also told that there would be two surprises but they wouldn't know when or where they would happen. This morning Miss Marson told all the Reception children to keep their coats on to go and see how the trees are changing in Spring. Suddenly PC Dave Phillips came into the room and all the children were shocked! The children went outside to see PC Dave's car and he showed them the different light flashes on top and then woke everyone up by sounding his siren. All the KS1 children joined them and they spoke to another police officer over the radio by shouting a message. The other officer told the children they were far too quiet so they had to do it again but much louder. After having a quick look inside the police car, the children went inside to ask questions to PC Dave. Harry C wore the special vest and his helmet while PC Dave explained his job and how he helps people. He has asked the children to give him a thumbs up whenever they see him.
Things to discuss with your child:
-Who to go to if they are lost: The children thought bad guys looked bad and wore black suits. We had a discussion that they don't look any different and safe people to ask for help are police officers, shop keepers and grown ups with children.
-How police officers help good people more than catching criminals.
-Always ask a police officer to show them their badge so they know they are real.
03.02.17 Update
This week has been such an unusually full one! From Your Turn to Learn to Miss Marson's Sing and Service, the children have been a pleasure to teach. Their behaviour has been exemplary and they've shown how amazing even the youngest children at North Ferriby Primary School can be.
This week the challenge folder theme was 'planes and helicopters'. The children have been busy building these vehicles, constructing an airport in the small world area, labelling and writing captions about silly planes and helicopters in the writing area and counting out windows onto planes.
Wednesday saw parents come in for their first Your Turn to Learn session. The children were so excited to be teachers and tell their parents what to do. Luckily Miss Marson reversed the magic teacher spell and they all reverted back into children at the end of the day.
Thursday saw Miss Marson's class' first Sing and Service. The children started practising on Monday and by Thursday they were experts! The service was better than every rehearsal and Miss Marson was incredibly proud, especially when the children were left standing on the stage at the end, singing by themselves. A standing ovation from the parents put HUGE grins on the children's faces and on Miss Marson's!
The children celebrated such an amazing week by making their own sweet cones ready for a cinema afternoon on Friday. They moved chairs to watch the film Ice Age and had a fantastic time. They also said goodbye to Heidi who is moving to a new school. Georgina and Francesca secretly made a beautiful card for her which all the children signed. Good luck Heidi, we'll all miss you.
Next week the challenge folder theme is 'emergency services' and the children will be learning how and when to dial 999. As part of this, the children will need to know their house number, street name and village/town. E.g. 1 Main Street, North Ferriby. Please could you help your child remember this for Monday 6th February.
Optional skills to work on at home:
-writing 0-10 then 11-20
-observing and talking about changes that may be happening in the garden regarding Spring
-talk to your child about which phone to use in an emergency
-draw pictures of healthy foods they like to eat to bring in and show the class
19.01.17 & 26.01.17 Update:
Last week the children had their final tennis lesson with Johnny. They were sad to finish lessons with him but they enjoyed the activities he had set up.
The children have been working super hard with their new maths skills over the past two weeks. They have been learning and applying addition vocabulary; add, plus, makes and equals.
Picture 1: Some children have been working out different ways to make 5 by building towers and spotting the pattern.
Picture 2: Children then heard an oral sum and pointed to the tower which showed it. E.g. "Three add two equals five".
Picture 3: The next step was to see a written sum and match it to the correct tower.
Other children have been learning to;
-combine two sets of cubes to answer verbal addition sums
-count out cubes to answer written addition sums (picture 4)
-count on from the largest number by putting a whole hand over it and then touch count the remaining pile (picture 5)
The children have thoroughly enjoyed the challenge folders over the last two weeks. Last week the theme was trains and this week it has been boats. Matty is also back from and the children were elated to see him! Here are a few photographs of challenges this week:
From left to right:
- Matty building a boat from hammer and pins
- Orla using her digraph knowledge to write words
- All the children enjoying the class disco for everyone completing their writing challenge
- Oscar and Louie enjoying our new mermaid fabric for fine motor development

Reminder:
Wednesday sees our first 'Your Turn to Learn' for this cohort. It starts at 2:15pm until 3:15pm and offers parents the opportunity to come in and learn with their child and to look through their Challenge Folder work.
Thursday sees Miss Marson's first Sing & Service of the academic year for EYFS children. Words to learn will be in book bags tomorrow night (27.01.17)
13.01.17 Update: SNOW DAY!
All of Key Stage 1 made the most of the snow by registering and going straight outside. There were snowmen appearing everywhere, experiments dragging feet in the snow, excited running around and much more. Here are some photographs of the EYFS children having a fantastic time before it all melted.
12.01.17 Update
This week the challenge folder theme has been 'cars'. The children saw the opening of the new role play area which had been transformed into a garage. The children have thoroughly taken all the roles on board; fixing cars, dealing with customers, answering the phone, going out to fix breakdowns, recording repairs and putting oil and fuel into the cars. The speech and language witnessed has been phenomenal. This is a brief transcript of an observation from this week:
George 1: "Has your car broken down George? Help me to fix it, we can fix it, George you can share with me,"
George 2 "Good because I like being the fixer I can fix well,"
Heidi: "I am waiting for my car to be fixed, it might take ages. I'm reading the Thomas books. We need more books,"
Georgina: "I'm the driver but I can pump up the wheel. I am a good fixer as well,"
As well as the role play area, the children have enjoyed making cars with blocks, using the iPads to access the Jolly Phonics app independently, moving cars around shapes to strengthen their elbow muscles, playing musical instruments whilst singing 'Sing Hosanna' and also building a small world with roads, houses and countryside.

On Thursday Johnny came in again to teach the children tennis. They had 3 games to choose from; throw the ball over the barrier into the bucket, throw the ball underarm to someone to catch and also throw a ball over the barrier for someone to catch with two tennis rackets. The children love this session and this week saw some huge grins!
Optional activities for home:
-Practise writing 0-10 and spotting them in the environment
-Discuss one more/less in everyday life e.g. 'I'm using 4 eggs for tea, but I need one more. How many will that be?'
-Recap 2D and 3D shape names, especially how many sides pentagons and hexagons have
-Play 'Guess my shape' by describing a 2D or 3D shape by number of sides, curved/flat sides, the shape of the faces, corners etc.
-Practise singing the alphabet then sing it again, pausing at letters for your child to quickly write (Miss Marson's phonics group have been doing this)
05.01.17 Update
The children have been fantastic so far this week. The classroom has been full of smiles without a tear in sight on the playground in the mornings. George brought our class bear Wavy back from his adventures over the Christmas holidays and it sounds like he had a fantastic time. George and his mummy made a beautiful book just like 'The Jolly Snowman'. It has pockets and lift out parts- the children have enjoyed carefully looking through it.
(pictures to follow)
On Thursday, Johnny the tennis coach came in and the children were beautifully behaved and listened. They played warm up games then learnt to throw underarm and overarm in a team game. Finally they used the rackets to hit the balls and then tried to hit little hoops with the balls from their rackets. The children are very excited to see Johnny come back next week.
This week in maths the children have all been learning and remembering the names for 2D and 3D shapes.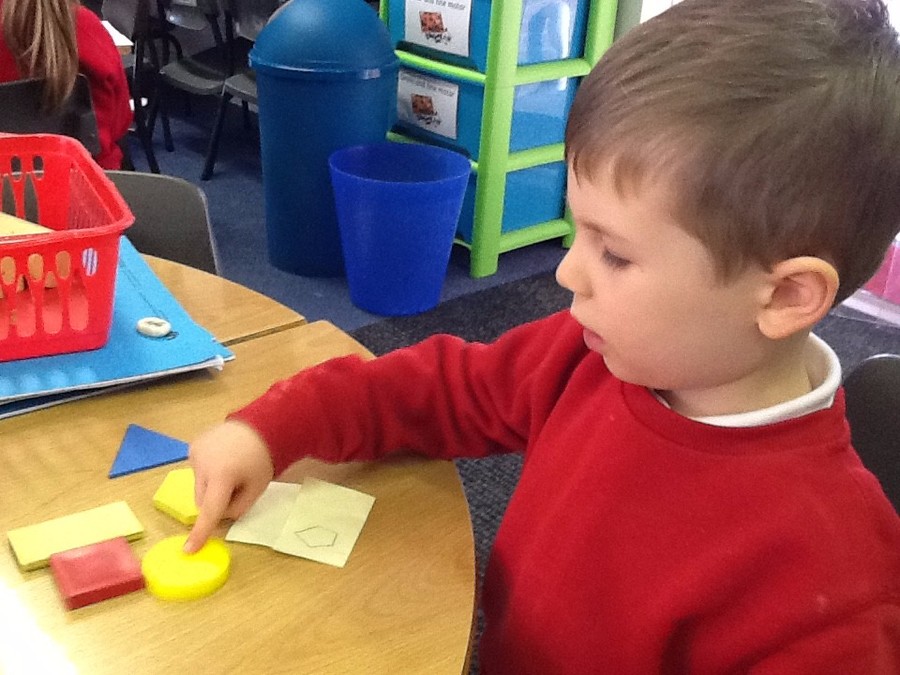 Thank you to all the children who have completed the Christmas homework. Observations have been flooding in and it has been lovely to see the children have really enjoyed hunting for shapes. If you haven't yet sent in a photo, simply reply to any observation email we have sent you.
Reminder: Children will need their Christmas photo in school by Monday. Each day children will stand in front of the class and discuss the traditions they do at Christmas. Please have a chat with your child to prepare them with ideas. We will add their talk to their learning journey, so keep an eye out in January's email update.
In response to some comments on recent reports, here are some optional maths skills to work on at home:
-One more/less than numbers to 10 then 20 when confident
-Writing 0-10, then 11-20 when confident
-Careful and accurate touch counting and counting out specific amounts
-3D/2D shape names (sphere, cube, cuboid, cone, pyramid, square, rectangle, circle, triangle, pentagon, hexagon)
16.12.16 Additional Update: Christingle Making
Here are a few photographs of one group of children carefully making their Christingles ready for the service.
16.12.16 Update
This week the children enjoyed a fantastic trip to Hull City Hall to watch The Snowman. The coach ride there was packed with fun; Jessica sang a beautiful version of Jingle Bells.
The children were in high spirits but impeccably behaved so close to the end of term. We had seats so close to the front that you could see the buttons on the instruments! The performance began with the live orchestra performing alongside a still animation of Cinderella but the main event really was breathtaking. Whiskerpaws (Mrs Sharkey's class bear) managed to get the best view by sitting on the stage with the violinists! The Snowman began and the children were enthralled by the animation and emotive music played live. A truly magical experience.
Info: Next term's challenge folders will be based around transport.
08.12.12 Autumn Term Summary
Autumn has been a wonderful time with our EYFS children. They have settled in quickly and adopted new routines, made new friends and have enjoyed learning through the challenge folders.
The children have been on two trips already; Build a Bear Workshop and to the cinema to see Ice Age 3.
The children had a fantastic afternoon when they decorated our Christmas tree with decorations that they made with their family member. The tree looked gorgeous and sparkly!